What Would You Like to Be In 5 Years?
A lot of people define themselves and others by their jobs and levels of income, as well as their possessions, such as houses, cars, horses, boats … This is very problematic. And I tell you why:
Imagine meeting two great men for the first time. You don't really know anything about them. The three of you are having great conversations and plenty of fun. Each has a different background and you are learning from another. Everything is fine and all are equal, until you ask them about their jobs and possessions.
One of them is CEO of a large and famous business, making millions each year. He has a huge mansion, a boat, an airplane, as well as a very nice car.
The other one is a poor brick layer, just getting by financially each month. He owns a very humble house. His car is close to break down.
The danger is, that you would regard the rich CEO much higher, than the poor brick layer, even though they seemed equal, just a moment ago.
How do you personally feel about yourself? Are you happy with yourself? Do you celebrate your successes? Or are you always feeling depressed, because others appear to be so much better and more successful, than you are? Those wealthy people are great and admirable, while you are just a little guy, with average results.
Is this, what life is all about? Is it really that important, which position you have in a business or how much money you take home every month? Sure, a big income can be very nice and offers plenty of opportunities to help out others, which are less fortunate. But is it really key to happiness?
What about other successes, such as being a good parent, who manages to raise righteous children, who can contribute to the community?
What about being a good spouse? What about being a good citizen, always prepared to help out others and contributing to society? Someone who cheers up the lonely widow or the parents, who lost their children? Someone who lightens the burdens of their fellow-beings?
Aren't those the true successes in life? Isn't this all, that really matters?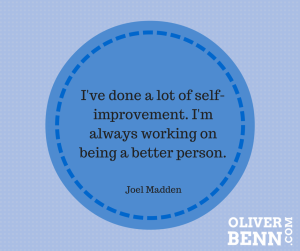 Of course we need an income. Of course we need to work for our living. But should we really use those to define ourselves and others?
How do you define yourself? Which are your qualities?
As you discover your qualities, you will discover your weakness, as well. You will realize, what you need to work on. Is it a reason to get depressed? Of course not. Celebrate your qualities. Feel good about them. This will give you strength to work on your weaknesses.
As you do so, don't forget to celebrate each and every little progress. This will give you additional strength and motivation.
What would you like to be in 5 years from now? A better parent, a better friend, a better member of your community? Would you like to be more patient, more loving, more diligent …?
As we work on our weaknesses, we gain strength and we turn those weaknesses into strengths.