The Advantages of Contentment
One December morning in 2013, when I took the children to school, the thermometer showed 7°C / 45°F. One of my daughters complained, how cold it was. I told her, that it's December and for December it's pretty warm, where we live. At this time of the year, it could be -7°C / 19°F as well, therefore I am very content. I tried to teach her, that a level of contentment can make life much easier now and in future. I must admit, I wasn't very successful. Hopefully she will remember our conversation some day and adjust her mindset.
What does contentment do and how can you benefit?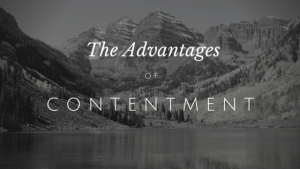 When do you feel better? When you are content or when you are complaining? Being content, even if the situation isn't 100% ideal, will help you feel better and will make you happier. It will help you accept the situation and make the best of it. This emotional state will reflect on the people surrounding you and even on those, you are dealing with online and on the phone.
Think about it: If you could choose between two people to do business with, who would be your favourite? Someone, who is always complaining or at least grumpy, or someone, who is always smiling and cheerful and has a positive attitude? I'm sure, the latter would be your favourite.
Here is a challenge for you: Next time, when things go wrong or are less than perfect, actively choose not to complain about them. Especially, if there isn't much, you can do about it. Look at them from a positive angle and pay attention, how this attitude makes you feel. If you practice this behaviour consistently over a period of time, I am sure, your whole attitude will become much more positive.
Does this mean, you should always settle for less? Certainly not. If something needs to be changed and if there is a chance, you can do it, I encourage you to go for it. Do it cheerfully with a positive attitude. But if it can't be changed, such as weather conditions, cheerfully accept it – without any complaint.
Let me know, how you feel about this topic.